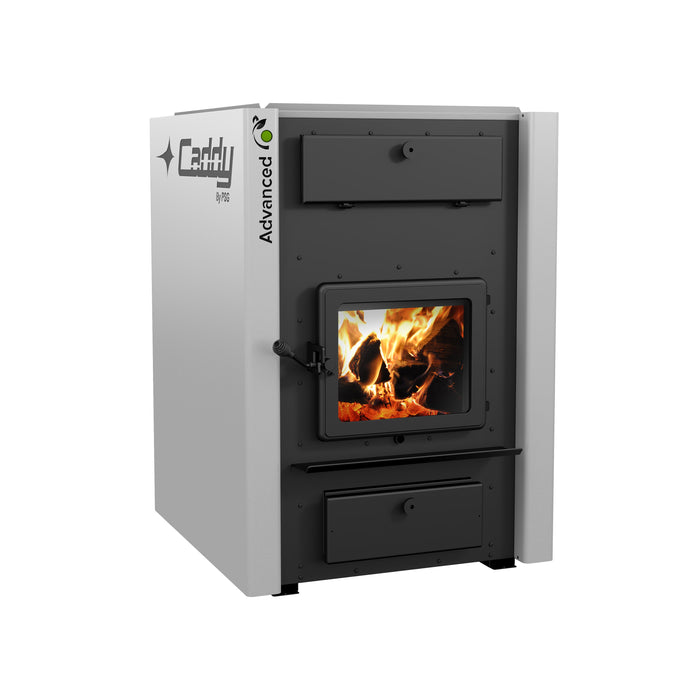 CADDY Wood Burning Furnace Advanced + Blower + Top Air Return Kit
Original price
$5,699.00
-
Original price
$5,699.00
What we offer!
✅ 0% APR Finance Available
✅ Full Manufacture Warranty
✅ Same-Day Order Processing
✅ Free Shipping Continental U.S
✅ No Sales Tax what you see is what you pay.
SKU
PF01020 + PA08586 + PA08506
THE NEW GENERATION OF FURNACES
Known for its exceptional performance, the Caddy Advanced is a furnace that's innovative design (patent pending) is surpassed only by its simplicity of use.
DISCOVER SELF-REGULATED COMBUSTION
The self-regulated combustion of the Caddy Advanced promises constant heat, while requiring minimal effort on your part; just fill the furnace, adjust the temperature and enjoy the heat for hours! The system automatically adjusts the air supply so that combustion is optimized and synchronized with the thermostatic demand.
At start-up, the furnace injects additional combustion air for easy and quick ignition.
As the furnace goes into heating mode, it automatically adjusts the combustion air supply and the operation of the convection blower. When your home's desired temperature is reached (thermostat setting), the furnace goes into energy saving mode, automatically reducing the combustion air and speed of the convection blower.
At the end of the combustion cycle, if the furnace needs to go back to heating mode (thermostat setting), additional combustion air is injected again to activate the combustion of the embers thus providing a hotter burn on the end of the combustion cycle.
EASE OF USE
Use the Caddy Advanced with confidence thanks to its intuitive operation and illustrated quick user guide. Equipped with a glass door allowing you to easily monitor the state of combustion, the furnace optimizes its combustion cycle: you will spend much less time taking care of it vs a conventional furnace (loading wood, adjusting the air, etc.). This optimization also ensures you substantial savings in firewood as well as increased comfort thanks to the production of constant heat throughout the combustion cycle.
UNMATCHED PERFORMANCE
Among the most efficient furnaces in terms of energy distribution, the Caddy Advanced has one of the lowest minimum burn rates in the industry. This means a load of wood burns longer, and therefore reduces the frequency of wood loading. Emissions on this unit are amongst the cleanest of the few EPA 2020 certified furnaces, and yet the Caddy Advanced is among the most energy efficient on the market. In addition, the new ECM motor blower option consumes 40% less electricity (and much quieter) than a standard PSC motor blower.
QUICK AND FLEXIBLE INSTALLATION
The Caddy Advanced is equipped with pre-wired electrical components that allow for quick and hassle-free installation. For more flexibility, you can install the filter supports on either sides and on top of the blower box to adapt the layout of the ventilation ducts to your space. In addition, the add-on configuration allows you to install the Caddy Advanced with your existing electric, oil or gas central heating system to take advantage of an alternative energy source.
The Caddy Advanced includes a tool set and wall support, an ash lip, a thermostat, a moisture reader, a barometric damper and a fresh air intake adapter.
Alternate source of heat
Always have an alternate source of heat to ensure the comfort and safety of your family. The Caddy Advanced comes in two different configurations: wood-only and wood add-on furnace.
When installed as an add-on furnace, only a SERIES configuration is allowed only in Canada and the blower is not required.  |  Only PARALLEL configuration is allowed in the USA.
WOOD

This furnace can be installed as a wood-only unit. Blower box with regular or ECM motor is required for this configuration.
WOOD ADD-ON

If you've already got an oil, gas, or electric central heating system but want to add the flexibility of wood, the Caddy Advanced wood add-on furnace is for you. This unit, which installs on either side of your existing system, uses the same controls and fan as your existing furnace, giving you a fully compatible wood+oil, wood+gas, or wood+electric combo system.
100% of the first 4 product owners who have registered their warranty are satisfied with this product.
APPLIANCE PERFORMANCE 
Fuel type
Dry cordwood (16" recommended)
Recommended heating area-ft² ()
1,000 - 2,500
Overall firebox volume-ft³
3.6
Maximum burn time ()
10 h
Maximum input capacity (dry cordwood) 
310,000 BTU
Overall heat output rate 
19,354 BTU/h (5.6 kW) to 47,052 BTU/h (13.8 kW)
Average overall efficiency (min. to max.) 
76.6 % (HHV) 
82 % (LHV) 
Delivered heat output rate (min. to max.) 
13,297 BTU/h (3.9 kW) to 42,234 BTU/h (12.4 kW)
Average delivered efficiency (min. to max.) 
60.7 % (HHV) 
65 % (LHV) 
Optimum efficiency 
83.2 %
Optimum heat transfer efficiency 
81 %
Average particulate emissions rate 
0.095 lb/mmBTU (0.041 g/MJ)
Average CO 
8.78 lb/mmBTU (3.78 g/MJ)
Average electrical power consumption 
220 W | 360 W
Based on delivered heat output.
Values are as measured per CSA B415.1-10, except for the recommended heating area, firebox volume, maximum burn time and maximum input capacity. Performances based on a fuel load prescribed by the standard at 10 lb/ft³ and with a moisture content between 18% and 28%.
Recommended heating area and maximum burn time may vary subject to location in home, chimney draft, heat loss factors, climate, fuel type and other variables. The recommended heating area for a given appliance is defined by the manufacturer as its capacity to maintain a minimum acceptable temperature considering that the space configuration and the presence of heat distribution systems have a significant impact in making heat circulation optimum.
Input value at 10 lb/ft³ fuel loading density and dry energy value of 8,600 BTU/lb.
Overall : Radiated and delivered heat together at 10 lb/ft³ fuel loading density over one total burn cycle.
Efficiency based on radiated and delivered heat when allowing cycling from high to low burn to simulate thermostat demand.
Higher Heating Value of the fuel.
Lower Heating Value of the fuel.
Delivered: Remotely provided to other rooms through ducting at 10 lb/ft³ fuel loading density over one total burn cycle.
Efficiency based on delivered heat when allowing cycling from high to low burn to simulate thermostat demand. LHV % is based on manufacturer's estimation.
Optimum overall efficiency at a specific burn rate (LHV).
 The optimum heat transfer efficiency is for the low burn rate (using HHV) and represents the appliance's ability to convert the energy contained in the wood logs into energy transferred to the room in the form of heat and does not take into account the chemical losses during combustion.
This appliance is officially tested and certified by an independent agency.
 Carbon monoxyde.
 Unless stated otherwise, measures were taken directly at the main power source and include all electrical components present in the appliance.
GENERAL FEATURES
| | |
| --- | --- |
| High-efficiency certified appliance | Yes, EPA 2020 approved |
| Maximum log length | 21" |
| Log positioning | Loading over width and over depth |
| Chimney diameter | 6" |
| Flue outlet diameter | 6" |
| Type of chimney | CAN/ULC S629, UL 103 HT (2100 °F) |
| Baffle type | C-Cast or equivalent |
| Shipping Weight | 705 lb |
| Door type | Single, glass with cast iron frame |
| Glass type | Ceramic glass |
| Glass surface – dimensions (Width X Height) | 12 1/2" X 10 1/8" |
| Blower (hp / speed / CFM) | 1/3 / 1 / 875 |
| Filter – dimensions (Width X Height X Depth) | 14" X 25" X 1" |
| Overall dimension (Height) | 41 3/4" |
| Overall dimension (Width) | 28 3/4" |
| Overall dimension (Depth) | 42 1/2" |
| Door opening – dimension (Height) | 10" |
| Door opening - dimension (Width) | 13 3/4" |
| Firebox – dimension (Height) | 16 1/8'' |
| Firebox – dimension (Width) | 18 3/4'' |
| Firebox – dimension (Depth) | 22 1/2'' |
| Steel thickness – body | 3/16" |
| Steel thickness – top | 1/4" |
| Easy-to-access ash drawer | Yes |
| Air return plenum – dimension (Depth or Height) | 15 3/4'' |
| Air return plenum – dimension (Width) | 24 3/4'' |
| Hot air plenum – dimension (Depth or Height) | 28 5/8'' |
| Hot air plenum – dimension (Width) | 24 1/2'' |
| USA standard (emissions) | EPA |
| Canadian Standard (emissions) | CSA B415.1-10 |
| USA standard (safety) | UL 391 |
| Canadian standard (safety) | CSA B366.1 |
| Tested and listed as per applicable standards | By an accredited laboratory (CAN/USA) |
| Warranty | Limited lifetime |
Minimum clearances to combustibles*


(Data expressed in inches. 1 inch = 25.4 mm)
 
Canada
United-States
Clearance – back wall
24"
24"
Clearance – ducts
<6'=6" ; >6'=1"
<6'=6" ; >6'=1"
Clearance – top (measured from the platform on which the appliance is installed)**
67"
67"
Clearance – recommended for maintenance on option side
24"
24"
Clearance – front
48"
36"
Clearance - side wall
24"
24"
Clearance – opposite side wall
6"
6"
Clearance – minimum floor protection under the appliance
37 1/8"

* The information given on the certification label affixed to the appliance always overrides the information published in any other media (owner's manual, catalogues, flyers, magazines and/or web sites).

** Some appliances have been tested with a low ceiling. Before setting up your unit, refer to the installation manual.
How do I reduce the amount of charcoal my heater produces?
Appliances that are EPA or CSAB415.1 certified tend to create larger coal beds due to their higher efficiency. This can be controlled by the way you burn your appliance. After an overnight burn, you may have a more significant coal bed. Simply rake the coal bed forward and add a smaller piece of wood on top. Burn the appliance on a higher setting (air control fully open). This will pull more primary air into the firebox and will increase the draft. The coal bed will burn down with the log. You may have to repeat this operation a couple of times before the coals are reduced. You are then ready to load your appliance with a larger fuel load.
Genuinely life-changing wood furnace!  100%
Gentlemen, now that we have properly cold weather, I can tell you that the Caddy Advanced is absolutely genius. We are getting 12-hour burns, using all of the heat from the coal bed, and keeping the house in the low 70s without big temperature swings. Since 9 a.m. this morning when I lit the fire, I've only opened it once to rake the coals over the ash grill.

12 hours of even heat on a bitterly cold, windy day and I only touched the furnace once . . . For people who heat with wood, this is genuinely life-changing!
BLOWER BOX WITH ECM MOTOR - PA08586
Download the owner's manual >
TOP AIR RETURN PLENUM KIT - PA08506
Download the owner's manual >
Jeremy – Maine, United State

All orders qualify for free curbside shipping to the contiguous United States.

We ship smaller items via USPS, UPS, or FedEx. Larger and heavier items are shipped via LTL freight.

Order Processing:
After your order is placed, you will receive an email confirmation from us. As soon as your order is placed, we begin processing the order and arranging shipping. In-stock orders typically ship within 3-15 business days after your order is placed. We do not guarantee shipping transit times.
Shipping Transit Times:
Most items take 3-5 business days to deliver after they have left the warehouse. Shipping transit times are not guaranteed - they are estimates based on our experience. Please note that Some items may be on a pre order status if thats is the case we will contact you.
We strongly advise you not to schedule contractors until your order is fully delivered and all items inspected.

Freight Shipping:
If your item is too big and/or too heavy to fight in a normal postal carrier vehicle, your product will be shipped via a freight carrier. We reserve the right to choose which freight carrier delivers your shipment.

Freight shipping is more complicated than a regular postal carrier delivery. Here are some important things to know about freight shipping:

You must be physically present to accept delivery. The freight carrier will either call to schedule a delivery appointment or notify you before delivery. Freight shipments are dropped off at your curb.The driver is NOT expected to deliver your items to your front door, garage, back yard, etc. It's a good idea to have other people there to help you move the shipment.
Extra charges may apply if redelivery needs to be arranged because nobody was at the delivery location. You must sign for the shipment upon acceptance.
Marvellesures wants to ensure a fair shopping experience for all of our customers - please review our store policies carefully. By purchasing from us you argree to the terms set forth in our store policies.
If you are not satisfied with your purchase, your product might be eligible for a return.
Please note that some items may have restocking fees please read the description of the item of the prior to placing an order , And it is your responsibility for shipping costs. This includes the shipping costs incurred by Marvellesures to ship the items to you and the return shipping costs. Additionally, you are responsible for the credit card processing fees associated with the transaction.
Please note we can ONLY process returns for unused, unopened products that are still in the original manufacturer packaging with all manuals, accessories, packing slips, and packing materials.  Items must be unused, unassembled, and must be returned in the original packaging within 30 days of delivery. There are absolutely no exceptions.
Items that are NOT eligible for returns include the following:
- Used items, opened items, or items that have been removed from original packaging.
- Items that have been assembled or installed.
- Clearance, custom made, or made-to-order products.
- Items that are not returned within 30 days of receipt of delivery.
- Items that are noted "not returnable" in the item description.
- Items that you ship to us without receiving an a Return Approval.
If your item(s) are unused, unassembled, and still in original packaging and are not otherwise ineligible for a return, you can request a return by sending an email to info@Marvellesures.com.
You will receive a return email from us either approving the return or requesting more information.  Please note the following terms and procedure for approved returns:
You are responsible for shipping costs associated with the return.  Original shipping charges paid by you are also ineligible for a refund.
Once your return is approved, we will send Return Approval with shipping labels and instructions on how to ship your return. After your return is received and inspected, we will issue your refund, less shipping costs and charges associated with the return. After inspection, we will issue a refund.
Inspecting Your Delivery/Damaged Items

Damage and Defects:

It is your responsibility to inspect products that are delivered to you to determine if your items have any damage or defects.

You MUST notify us via email of damage or defects within 5 business days of accepting delivery.  There are NO EXCEPTIONS.

If you notify us of damage or defects within 5 business days of delivery:

Email us at info@Marvellesures.com to report the damage.  If you call us we will ask for you to send an email for documentation purposes.
We will offer free replacement parts, a discount to keep the item as is, or allow a refund/replacement.  We are an online only dealer and are unable to perform or coordinate repairs for damaged items.
Your items cannot be used in any way to be eligible for replacement parts, a discount, or a refund/full replacement.
If you choose to keep the item for a discount or to accept replacement parts, you have 3 business days to accept or reject the offer.  You still cannot use your items during this time.
Keep packaging, box, and items in case the item needs to be inspected by the freight carrier.

If you don't notify us of damage via email within 5 business days:

We will not offer any refunds, free replacement parts, discounts, or exchanges under any circumstances.  After 5 business days, we are outside of our time window to file claims with the freight carrier or manufacturer.
We can sell you replacement parts for repair.

Please note, some of our products may arrive with residue on them, which is a byproduct of the manufacturing process.  Marvellesures is not responsible for the costs associated with cleaning or removing manufacturing residue from delivered products.
California residents:

 WARNING: This product can expose you to chemicals including nickel (metallic), which is known to the State of California to cause cancer. For more information, go to www.P65Warnings.ca.gov.
Note: Nickel is a component of stainless steel.